Noticeboard
"Petite Messe Solennelle" by Gioachino Antonio Rossini
Learn your part (SATB) here:
Petite Messe Solennelle
---
---
Carols at Sue Ryder – Tuesday 17th December 2019 – Photos by Heather Adams
Photo 1
Photo 2
Photo 3
Photo 4
Photo 5
Photo 6
---
Handel's Messiah – Gothenburg 1985 – David Butler remembers
David Butler remembers, "As we sing Messiah it brings back memories of a concert a large number of SCCS members were involved in 1985 to acknowledge the tercentenary of Handel's birth. Sponsorship was by the European Union bringing together choirs from across Europe to sing Messiah in Gothenburg. There were about 3,000 singers in all with a substantial orchestra. The photo below (so big I have had to copy in two halves) shows the performers in situ. Two performances were on successive nights to some 12,000 people on each occasion. It was quite a trip."
---
Some Old SCCS Posters
Emma Sieling has kindly provided the following old SCCS posters. They make interesting viewing.
Spring Concert 2006
06 Mozart poster
Summer Concert 2006
06 Merry Widow summer concert
Christmas Concert 2006
06 Christmas Cornucopia posterpdf
Spring Concert 2007
07 Rutter requiem etc Spring concert
Summer Concert 2007
07 Saturday Night at Movies Summer concert
---
Exciting news of Eric Hartley (retired, talented SCCS tenor)
Eric Hartley to receive Whitchurch Award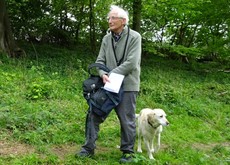 The recently created Whitchurch Award for voluntary activity in the community is to be given to well known village resident Eric Hartley (pictured with his dog Molly).
The joint organisers of the award scheme announced today:
The Whitchurch Society and the Whitchurch Web are very pleased to announce that the inaugural winner of the Whitchurch Award for an outstanding voluntary contribution to life in the village is Eric Hartley. For over thirty years Eric has overseen the publication of his booklet of local walks around Whitchurch, and there can be few houses in the village without a copy. Through this work Eric has become a champion of the local rural environment, protecting local footpaths, encouraging local landowners to grant permissive rights over their land, and educating us all into the local history and natural history of the area. The Hartley Steps on the Thames Path commemorate his efforts in this respect. Above all, though, Eric will be forever recognised, especially perhaps by fellow dog-walkers, as the nicest, most friendly and most courteous of people – a real force for good cheer around the village, and a great contributor to life in Whitchurch.
The award will be presented to Eric at the Annual Parish Assembly in the Old Stables on Tuesday 21st May. (The date was changed from Thursday 23rd because of the European elections.)
Eric led the Whitchurch Society village walks for many years, before handing on the role to younger walkers. This year's Spring Walk takes place next weekend, Sunday 12th May. All are welcome – details in the poster on What's On.
Date/Time : Monday, 06th May 2019 18:24
---
Singers Come Dancing, Saturday 17th November 2018
Please click here for some pictures:
Singers Come Dancing
---
Pictures of the Spring 2018 Concert – The Paul Whitehead collection
Spring 2018 Concert pictures.
---
Members Gallery
Would you like to change your picture in the Members Gallery? Alternatively, perhaps you do not have your picture in the Members Gallery currently. If so, you are welcome to email a new picture to David Doidge and he will load it on the Members Gallery.
Please be assured that it is not compulsory to have your picture in the Members Gallery.
---
Visit to Albi, July 2017 – Images by David Butler
Albi July 2017 – David Butler

---
Visit to Albi, July 2017 – Images by Clare Powell
Albi July 2017

---
Summer Concert, 8 July 2017 – Videos by Jim Reynolds
We are grateful to Jim Reynolds, who has provided videos for most of this Summer Concert performance. Jim's videos are below:
Sprig of Thyme (Rutter)
When the men are singing "The Miller of Dee", look at the incredulous looks on the faces of the ladies.
Additional Pieces (Mendelssohn, Faure, Franck, Burke)
---
Summer Concert, 8 July 2017 – An image
Summer Concert 2017

---
Section Leaders
You can find out who your section leader is, on this website page. As well as keeping the weekly register and many other essential tasks, section leaders are always interested in your views. Do chat to them or email them.

---
SCCS Rehearsal and Concert Dates
SCCS Rehearsal and Concert Dates 2019 – 2020
---
easyfundraising
As at April 2018, we have raised over £923 for SCCS. Thank you. We have our own easyfundraising page. Find out how you can help.

---
Desert Island Discs
Would you like to be the next Desert Island Disc contributor? If so, please contact David Doidge.
These are the previous Desert Island Disc contributors (in first-name alphabetical order). Please click on the name of the contributor to hear the chosen music:
---
Reading Male Voice Choir
For more information, click here.
---
Other Events:

Where can we go? (What's on?)
Do you want to know what events are available? Look here:
https://www.wherecanwego.com
---
Back to 'Members & Information' page
---