Messi di Gloria and Stabat Mater
Great Hall, Reading University

Review by Terry Grourk, Henley Standard

All rise to challenge of highly ambitious programme of sacred music.

Reading University's neo-classical Great Hall with its excellent acoustics was an impressive setting for this performance of two sacred works by South Chiltern Choral Society.

The singers were conducted by Paul Burke and accompanied by a fine orchestra, led by violinist Kate Bailey with Ian Westley as continuo on keyboard.

The first half opened with Pergolesi's Stabat Mater, written shortly before his death in 1736, aged 26, which tells the story of the Virgin Mary's suffering as she witnesses Jesus's crucifixion. Arranged by the British composer Desmond Ratcliffe, the dramatic and intense series of arias and duets is shared between the choir and the soloists.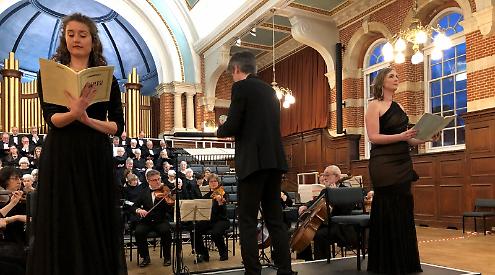 Harriet Kirk, from Caversham, performed the mezzo-soprano part with distinction. She began singing with Berkshire Girls' Choir and has now developed an international musical career. Jennifer Cearns (soprano) replaced Lisa Howarth, who was ill, with literally only a few hours' notice. Fortunately, she had performed the piece before as well as having sung previously with Harriet. The two soloists delivered an excellent rendition of this striking Neapolitan baroque-style composition, singing in perfect harmony. Their beautiful duet in section IX, Sancta Mater, was a particular joy to hear.

For the second half the 70-strong choir was joined by more than 30 singers from France's L'ensemble Vocal de la Vallée du Tarn. The massed choir shone as they sang Messa di Gloria, which Puccini composed in 1880 when he was 22. It was originally entitled Mass for Four Voices as a conservatoire graduation exercise featuring choir, tenor and baritone soloists with orchestra in five movements.

Tenor Dominic Bevan and baritone Sam Young completed the line-up with their rich and powerful voices. Burke commented on the technical challenge of conducting all the performers in such a highly ambitious programme. It began with the Kyrie followed by the Gloria with its substantial fugue that filled the Great Hall with majestic melodies. The central Credo allowed both soloists to demonstrate their talents. For the Sanctus and then the Agnus Dei the choir and soloists combined to end the performance in a heavenly chorus.